Isoya's policy for achieving the SDGs
As a company that manufactures products using nori (edible seaweed) gifted to us by nature, Isoya aims to contribute to the growth of local communities, to eliminating poverty, and reducing food loss. This policy is in line with the Sustainable Development Goals (SDGs). Our entire company is sincerely working to make the SDGs come true.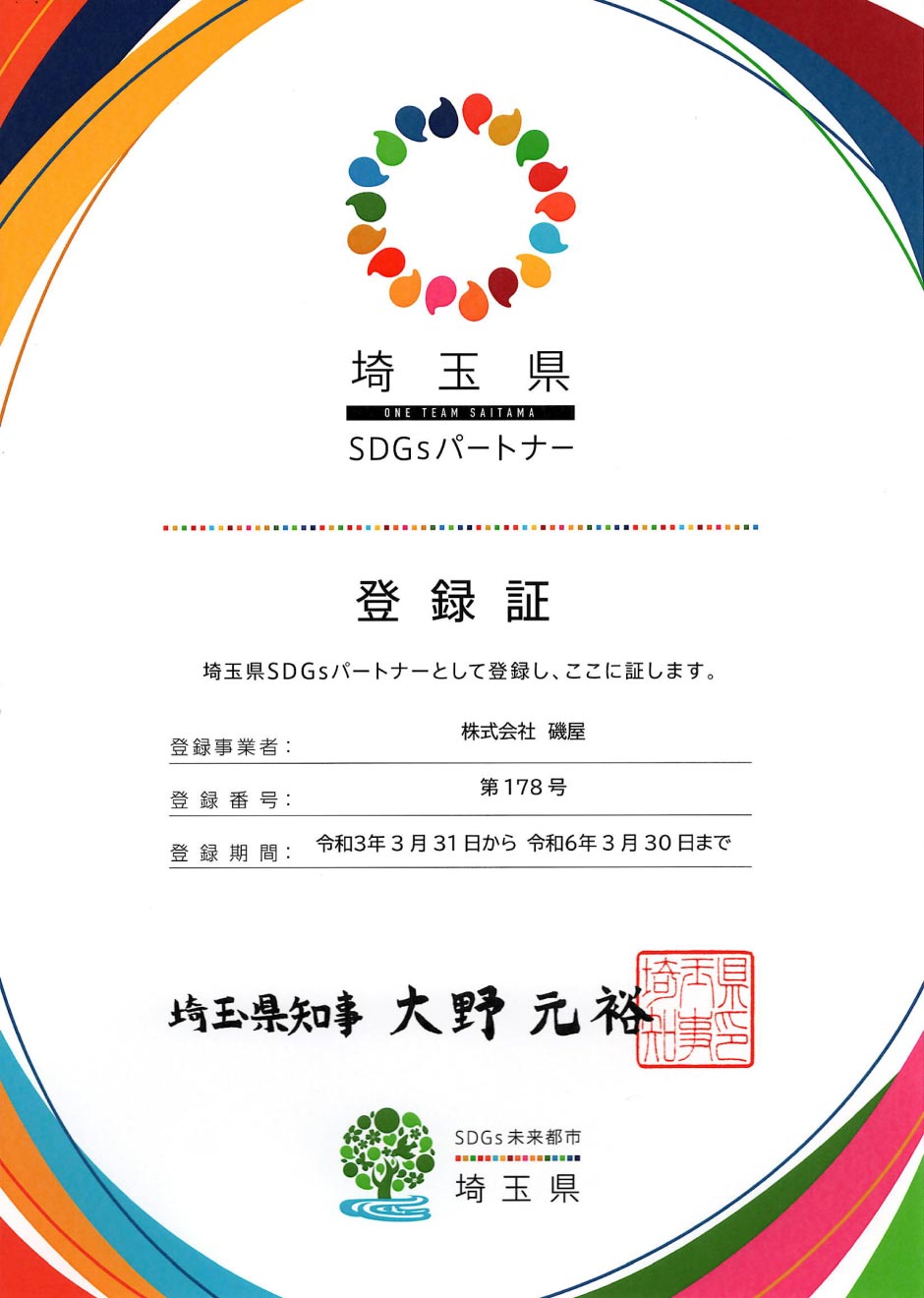 Saitama Prefecture SDGs Partner
Certificate of Registration
This certifies that the above-named company is registered as a Saitama SDGs Partner.

Registered company: Isoya Co., Ltd.
Registration number: No. 178
Registration period: From March 31, 2021 to March 30, 2024
Governor of Saitama Prefecture Motohiro Ohno
SDGs Future City
Saitama Prefecture
Specific actions we are working on ourselves
01
Human rights and labor
We are active to ensure environments allowing diverse human resources (including women and the elderly) to be fully active.

• Certification Program for Businesses Practicing Diverse Workstyles
 December 1, 2022 Received Platinum certification

• Saitama Prefecture Certification Program for Businesses Promoting Active Roles for the Elderly
 September 2, 2019 Received certification

• Saitama Prefecture Certification Program for Health Management
 December 9, 2019 Health declaration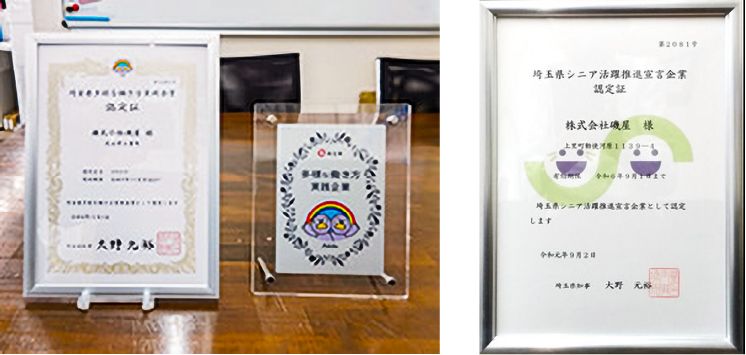 02
The environment
We are committed to promoting the 3Rs: Reduce, Reuse, and Recycle.
03
Fair operating practices
Our employees are thoroughly educated about harassment, corruption, and bribery prevention, and we take appropriate measures in terms of ethics.
04
Products and services
We have set up systems to ensure the safety of our products and services, and to provide them with excellent quality.

• Selected as a Sai-no-kuni Factory
 September 5, 2018

• Sai-no-kuni HACCP Initiative Facility
 January 14, 2021


05
Contributing to society
and communities
We provide food and supplies to nearby children's homes and other facilities.

We outsource our operations to nearby special needs facilities.

• Business Supporting Special Needs Facilities
 Certified on August 26, 2019


06
Organizational structure
We determine the impact our company and organizational activities have on stakeholders through dialogue with them and take appropriate action.

We identify and evaluate risks, develop management processes, and formulate business continuity plans in case of an accident or disaster occurring.

• Certification for Business Continuity Enhancement Plan
 January 4, 2021 Certified by the Kanto Bureau of Economy, Trade and Industry.